The origin of The Mother Medicine (Aya) lies deep in the jungle of South America where the native tribes still live. They kept their rituals by passing them on from generation on generation. It's an honour to invite you for this special Yawanawa Tribe Retreat for healing, finding answers, connection, community, oneness and so much more. If you feel called, be there.
Sometimes things are meant to be. Maybe you have this feeling with our unique retreats. Last week The Yawanawa Tribe contacted me via Instagram. They shared how much they feel called to bring their healing to the Western World.
They asked me if I would be able to bring a group of people together who can use healing during this special time of history.
I asked my Instagram friends if they would be interested and I posted a request on Instagram for location in The Netherlands. Everything went so fast and here you can read what this Retreat is about.
What is this Yawanawa Retreat about?
In the evening the Retreat is focussed on Retreats with the Mother. During the Day time you can learn about the Yawanawa Tribe with their native rituals, ceremonial music, the stories behind the medicines, culture and more. In the morning, before breakfast we offer the possibility to do Kambo and during the Day there is also Rapéh and Sananga.
Do you feel that you would like to have a better connection with yourself to be more in your personal strength? Do you feel the medicine calling you to do inner work in order to heal, cleanse, make changes or grow?
The Mother medicine calls you when you need to do some inner work. You don't always know why, but during this Retreat and afterwards, you will understand.
Take a moment to reflect, heal and grow
This Retreat is the perfect setting if you want to make a shift inside yourself. This can be in different levels: body, mind and soul. Sometimes we feel blocked and somehow we can't get a breakthrough. The Plant Medicines work on different levels that you can't touch with therapy or coaching. You will know what I mean if you have experienced this. Many people describe one night with plant medicine as ten years therapy in one night.
Even while you can have high expectations by hearing stories from others, watching video's and reading this webpage, it's the best to come without expectations. Come with trust that it's good to follow your intuition and answer your calling to go inside with the medicines. Have faith that you will get what you need in order to grow.
After the Retreat the medicine works for a longer time so you can integrate all that you received. For most people there is an immediate change and at the same time it takes months to integrate everything.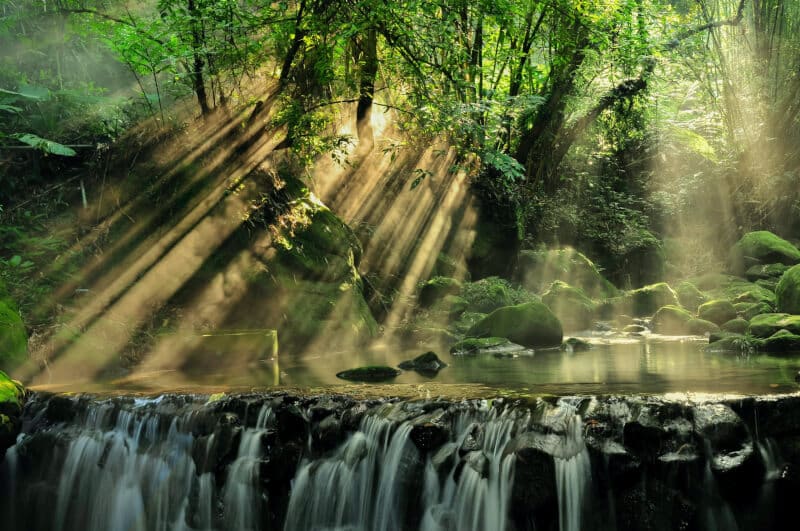 The Yawanawa Tribe are still Earth Keepers. They see the Earth as their mother who takes care of them and the other way around. They live in tribes in the Amazone in Brazil and at the same time, they are connected with the modern World. As I described before: They feel the calling to bring their healing work and share their wisdom with the Western World.
The Yawanawa Tribe take a lot of old wisdom with them. One of these ancient wisdoms is the wisdom on how to heal with plant medicines.
The focus of this Retreat will be 'The Mother Medicine' (Aya). This is an ancient medicine for the soul. A ceremony makes it possible to create a deep inner journey that can help tremendously in your life. It helps you get insights about life, by healing the past and letting go old pain, to get another perspective about life, to release stress, to get more self-love and much more.
We do our ceremonies in groups of 20 people under the guidance of 4 Yawanawa Tribe members and 1 or 2 people of our own team. Next to The Mother medicine, they also take Kambo, Rapéh and Sananga.
What is kambo, rapeh and sananga?
Kambo is a medicine carried by a frog from the jungle. Kambo is very powerful substance and gives you one deep detox at different levels: body, mind & soul. It is especially powerful for cleansing your mind (depression) and boosting your immune system.
It helps develop a more positive mindset as it removes negative thoughts, energy and sprits. The frog who wears Kambo doesn't know fear. It has no enemies in the jungle thanks to the Kambo. Kambo is a great medicine when you want to convert fear into love. Afterwards people often feel powerful or experience a deep inner peace.
Rapé is a medicine from the jungle mainly made from sacred tobacco called Mapacho in combination with herbs and/or other sacred plants from the Amazon region. It cleanses your pineal gland and connects you with your soul within a few minutes. This medicine helps you get out of your head, into your heart and is mainly about receiving love and relaxation.
Sananga is the medicine of clear vision. They are droplets that you get in your eye. This stings for a while, but in the end it helps you to remove pollution. It cleans your thoughts and lets you experience clear insights. This is also used after an Ayahuasca ceremony.
How can the Plant Medicines help?
They can support the following problems:
Below you can find a few video's where you can hear the traditional music of the Yawanawa Tribe.
Maybe it seems to be a lot to join 3 Days of Ceremony, in the video below I explain 'Why you would do 3 Ceremonies?'
We want to respect the way of working from the Yawanawa Tribe as much as possible. There is a big power in doing 3 Ceremonies in a row.
There is not only a sequence of building up in the ceremony itself, also in the 3-day period there is a sequence of build-up the process of these 3 ceremonies.
There is something magical about the number '3'. The Holy Trinity, Body, Mind & Soul, Past, Present & the Future for example and we say 'Everything comes in three'.
Our experience is that the Third ceremony is the most powerful ceremony, because you are free from expectations. It's easier to let go and surrender to an even deeper message from Mother Ayahuasca.
It's a Universal law. That's why it's very special to join 3 Ayahuasca Ceremonies. There is an order in these 3 ceremonies:
Day 1: Past: 'Letting Go' The first day is about letting go and cleaning up. What has happend in your life that you would like to let go off? We will do an exercise about this to help you. But if you can't come up with something… Trust me, the energy will do the work.
Day 2: Present: 'Where are you now?' The second day you can come deeper and more to the essence of your journey. You have been cleaning up and opening up. The second day and ceremony we will focus on being in the now and surrender to what has to happen.
Day 3: Future: 'Where do you want to be?' And the third day should be the completion of your journey.  This day we are working on 'Who you want to be?' and 'What goals you have for the next year?'
4.00 pm Arrival
4.15 pm Show your room & install
5.00 pm Welcome & connect
5.30 pm Introduction
Explanation Retreat
7.00 pm Preparation Ceremony
8.00 pm Ceremony #1
2.00 am Closing Ceremony
3.00 am Going to sleep
*Possibility to do Kambo (optional)
10.00 am Breakfast
11.30 Get to learn more about The Yawanawa
Share & learn about medicines (Rapéh, Sanaga)
13.30 Lunch
Singing together
Learn more about the Saiites (songs)
Face painting
7.00 pm Preparation Ceremony
8.00 pm Ceremony #2
2.00 am Closing Ceremony
3.00 am Going to sleep

*Possibility to do Kambo (optional)
10.00 am Breakfast
11.00 Sharing circle
Get to learn more about The Yawanawa
Share & learn about medicines (Rapéh, Sanaga)
Lunch
Get to learn more about The Yawanawa
7.00 pm Preparation Ceremony
8.00 pm Ceremony #3
2.00 am Closing Ceremony
3.00 am Going to sleep
10.00 am Breakfast
11.00 am Integration session
12.30 pm Saying Goodbye
1 persoon room €1550
2 persoon room €1350
3 persoon room €1250
*arrival time is at 16.00 , check out time on Sunday is around 12.00
Yawanawa Retreat 3 Days, 3 nights
Thursday September 16, 17, 18, going home at Sunday September 19 *2 spots left
Thursday September 23, 24, 25, going home at Sunday September 26 *Fully booked
The Retreat takes place at a wonderful location near Leeuwarden in Friesland. It's a spiritual centre surrounded by a green landscape. It has a wonderful energy and perfect for this type of Retreat. The Ceremony room is separate from the rooms where you will sleep. You can choose to share a room or to book a private room
Thursday September 16,17,18, going home at Sunday September 19 *2 spots left
Thursday September 23,24,25, going home at Sunday September 26 *Fully booked
WHAT'S INCLUDED IN THE RETREAT?
-Ceremonies with the Mother (1 p/Day)
-Kambo is optional for €95,- euro extra (incl vat)
-Rapéh & sananga
-Learn about the Yawanawa Culture
-Learn about Traditional Music
-Teaching Yawanawa & Face painting
-Bed linnen
-Towels
-All food
-All drinks
-Sharing circles
-Integration session (last Day)
-Traditional way of guidance from the Yawanawa Tribe
-Professional & loving guidance from our team
MORE QUESTIONS ABOUT the yawanawa retreat?
This is a once in a lifetime opportunity
If you hear mother nature calling, click below to reserve your spot for this beautiful event!